Dance Till Ya Drop 2023
ENTERTAINMENT
Come and line dance with a Robert Lindsay, Richard Palmer, and Daniel Whittaker
THE HOTEL
The Cairn Hotel is an antique hotel with modern amenities ensuring you'll experience Harrogate's rich history and quintessential English charm. Stay and feel the difference.
Today, in addition to serving as a romantic getaway for couples, The Cairn Hotel has welcomed many guests through its doors who have come for tourism and conferences. It houses a top-class conference suite and function space, meaning it caters for all requirements.
The Cairn Hotel provides an excellent dining experience with its Michelin Star Chef who offers guests a sophisticated dinner menu in our exclusive dining room. Guests can also enjoy afternoon tea in the lounge area or refreshments at the hotel bar when they need a break from exploring Harrogate
HARROGATE
Harrogate is the perfect base for your weekend break, with so many things to see and do in the area. We have all the information you need to plan your perfect visit, including our favourite places to eat and drink, places to shop and things to see.
If you're looking for a place to stay then we have lots of great accommodation options too. We hope you enjoy your time with us - Harrogate is waiting for you!
THIS WEEKEND IS SUITABLE FOR 
Improvers and Intermediate dancers
---
Please note: When you book this dance holiday you pay a deposit of £35.00 per person and the full balance will be due 12 weeks before the dance holiday. All deposits are non refundable.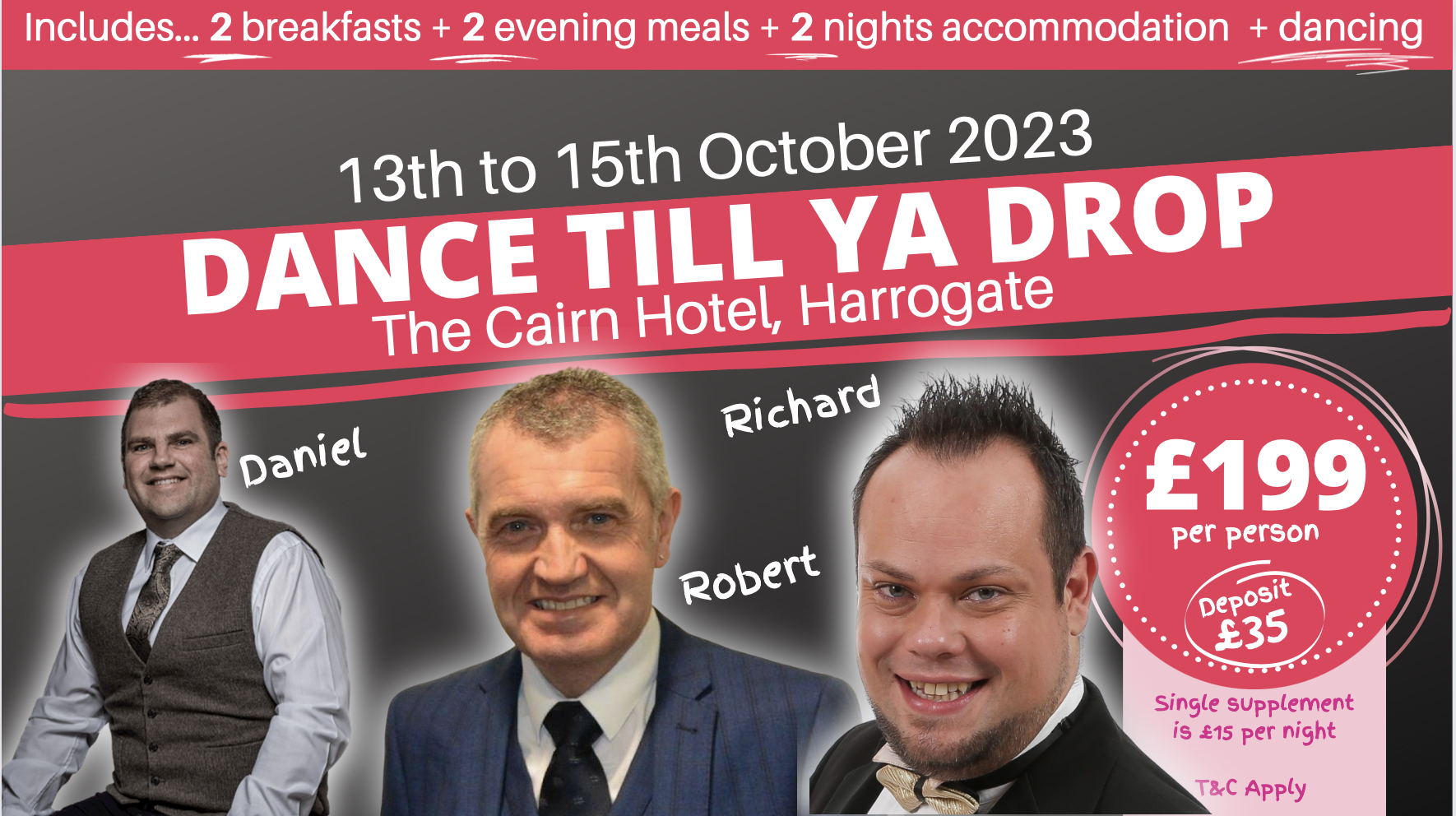 Send this to a friend
Dance Till Ya Drop 2023